Trigger Point screens June 1 and 8 at 9:30pm on ABC1
Our documentary series Trigger Point begins tonight at 9:30pm on ABC1, and was flagged by Fairfax newspapers as their 'Pick of the Week'. Take a look – review below.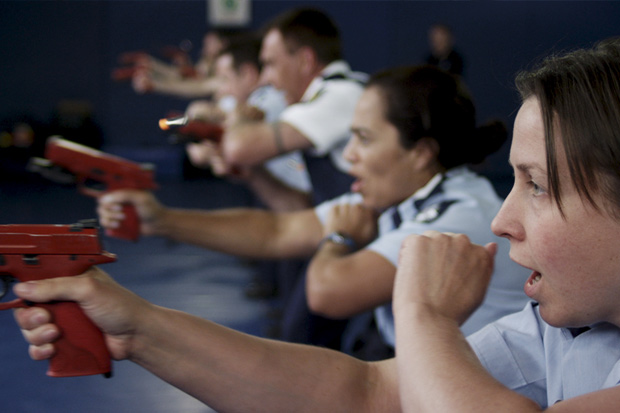 "TRIGGER POINT
New series
★★★★
Sunday 1 June, 9.30pm, ABC1
Veteran Fairfax crime reporter John Silvester fronts this excellent two-part documentary examining the issue of police shootings in Victoria. When these stories hit the headlines the focus is – understandably – very much on the victims and their families. What we tend not to see, either in the news or in fiction, is an account of how these incidents affect the men and women pulling the trigger. That's what this doco sets out to address, along with an intelligent backgrounder on how and why firearms became part of the everyday uniform of Australian police. Silvester's access is impressive. We don't just get interviews with a dozen key players (members of the notorious armed robbery squad, the officers associated with the Walsh Street shootings, family members, all the way up to Victorian police chief Ken Lay). There's also a quantity of disturbing, moving and enlightening archival police footage of crime scenes and investigations. (And a warning: some of it is horribly explicit.) It's a visceral reminder of the reality of these incidents. Most compelling, though, are simply the accounts from the officers involved who talk frankly about how terrified they are when confronted with an armed villain, how that fear affects your judgment, and the awful and enduring emotional fallout when you realise you've taken someone's life. Popular culture encourages us to believe that police officers are somehow superhuman, a special breed. One of the most powerful aspects of this story is the reminder that, like us, they are simply frail human beings. This episode deals with a number of stories we're all familiar with, either from the newspapers or the Underbelly sagas. And as Silvester points out, while there's always concern about police shooting and killing people, the general public isn't all that fussed when the victims are hardened criminals. Next week we look in detail at the shooting of Melbourne teenager Tyler Cassidy in a suburban skate park: something that didn't just horrify the public, but devastated the officers involved".