Our score for Deepsea Challenge 3D nominated at this years AACTA Awards
OK, I'm feeling pretty damn proud right about now to have picked up a nomination at this years AACTA (AFI) Awards for our score to Deepsea Challenge 3D. We are in the Best Original Music Score in a Documentary category. Stiff competition but that somehow makes the acknowledgement even more humbling. Congrats to my co-nominees Ricky and Amy (and a HUGE thanks to Peter H)
That brings the total nominations for Deepsea Challenge to a whopping 4!
From the AACTA website: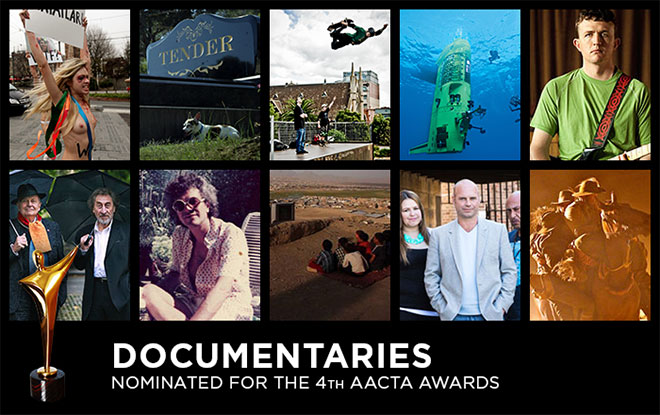 "The AACTA Award for Best Documentary Television Program presented by Foxtel Movies sees the Oscar-winning Eva Orner nominated for her SBS television documentary THE NETWORK, alongside TENDER (ABC) and the series BRILLIANT CREATURES: GERMAINE, CLIVE, BARRY & BOB (ABC) and TAKING ON THE CHOCOLATE FROG (Foxtel – STUDIO).
A number of the previously announced nominees for Best Feature Length Documentary received craft award nominations today, with UKRAINE IS NOT A BROTHEL up for six AACTA Awards, and ALL THIS MAYHEM and DEEPSEA CHALLENGE 3D receiving four nominations each.
Australian music icons Nick Cave and Warren Ellis are among the nominees for the new AACTA Award for Best Original Music Score in a Documentary presented by APRA AMCOS for TENDER (ABC). Jed Kurzel (ALL THIS MAYHEM), Jed Palmer and Zoë Barry (UKRAINE IS NOT A BROTHEL) and Ricky Edwards, Brett Aplin and Amy Bastow (DEEPSEA CHALLENGE 3D) round out the nominees in this category.
The Australian Academy congratulates all nominees for the 4th AACTA Awards."