'Gothic' is finished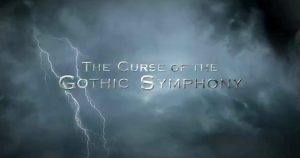 Well, I've wrapped The Curse of the Gothic Symphony.
Hired as the music editor rather than the composer, in many respects my role was not unlike composing at all. In fact, as with any film I work on as a composer, there is an evolution from rough cut to lockoff during which I have to edit my own compositions to fit anyway. The challenge here however was that rather than editing my own music I was to score the film using carefully selected and edited excerpts from Havergal Brian's Symphony No. 1 'The Gothic', which is known as being the largest, longest and most technically difficult symphony ever composed (or at least according to the Guiness Book of Records).
The work itself is about 2 hours long and ranges from cacophonous atonal craziness to whisper quiet beauty and everywhere in between. It was a challenge to find the most 'filmic' parts of the symphony to serve as our score, and then to edit the work such that it would serve the picture emotionally and with respect to scene timing. Great fun though! The final mix was done at Soundwaves in 5.1 and it sounds fabulous. Hopefully MIFF puts us in a 5.1 capable theatre so we can hear the magnificence of the score and the mix!
It premieres at the Melbourne International Film Festival this July. See you at the premiere!